Stories
These are our Stories! 
---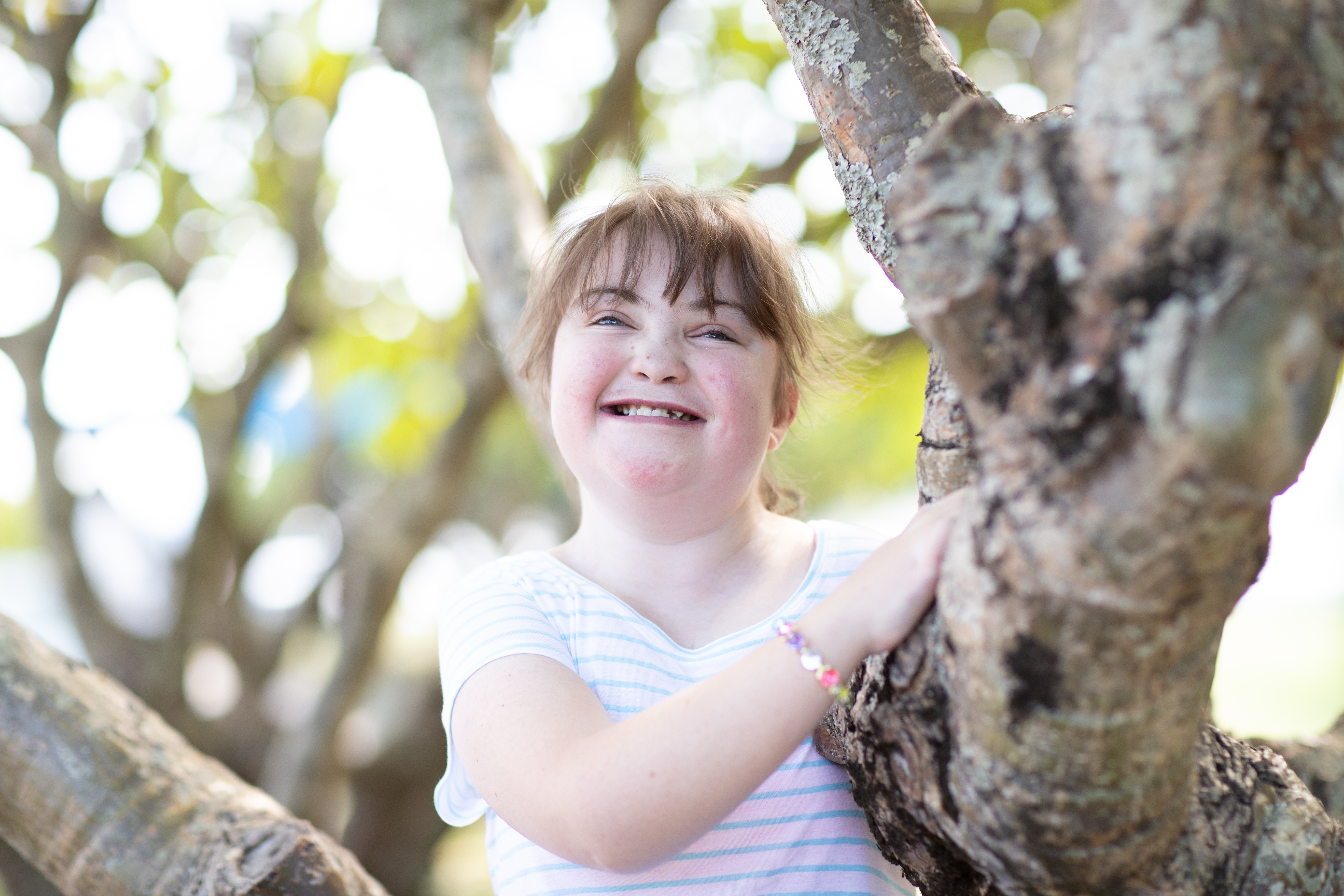 I am Sarah!
I have a Syndrome Without a Name (SWAN). 
My condition is extremely rare and includes complex cyanotic congenital heart disease and chronic idiopathic thrombocytopenic Purpura. These and other conditions means I have a high risk of bleeding, physical capacity limitations and speech and language challenges. 
However I have no limitations on my exuberant personality, caring ways and the fact that I am so likeable, well that's what people tell me!
Sarah has received grant funding for speech therapy to assist with her ability to communicate verbally and connect with others and assist in overcome the limitations of opportunities to learn. Sarah's medical specialist said ''The speech therapy sessions that Sarah received with financial support from the Steve Waugh Foundation had a significant impact on her speech and language skills."
---
I am Holly!
I have Congenital Disorder of Glycosylation Type 1A (CDG), which creates global developmental delay, ongoing complex health support needs, with no cure.
I was helped….. because The Steve Waugh Foundation granted funding for speech therapy, physiotherapy and occupational therapy which has changed my life! Since 2013, I have participated in a variety of programs, including a Summer Fun Speech Therapy Program; an intense program to develop language and social skills in school-aged children, which I loved.
Holly's therapy has improved her speech as well as her confidence. The Foundation funded custom made bike for Holly means her family can build fun memories riding together. Her family are very thankful for Holly's support and proud of her great achievements.
---
I am Xavier!
I was born on the 28th April, 2011, I'm five years old. I love to watch The Wiggles and bubbles floating, I love when they pop on my nose! I have a cat called Washington and I just love him. I cannot talk but I find ways of communicating, sometimes I use just my hands and I smile a lot!
I have….. an undiagnosed rare genetic syndrome. Because my condition is undiagnosed my parents receive very little funding and have no idea what my future holds. I have 'no label' which makes it very hard for me to fit in anywhere.
In my Mum's words  "As soon as Xavier was born, it became apparent that there were serious medical issues for this beautiful little boy. As well as having difficulties breathing, extensive tests showed that he had Bilateral Choroid Plexus Cysts on his brain, as well as a tiny 'dead spot'. His results also showed that he had a Patent Ductus Arteriosus and Ventricular Septal Defect, as well as hydro nephrosis of the left kidney. Subsequent tests revealed persistent Tachypnoea which required Xavier to have oxygen treatment at night times. Xavier also experienced feeding difficulties due to a high arched palette and a nasal malformation. Xavier spent his first two months in hospital with a very uncertain future.
For the past 5 years, Xavier has attended many medical appointments. He requires ongoing testing for his kidney, heart, lungs and eyes. Sadly, he has significant Global Development Delay, and Xavier functions at a low level of ability in all areas.Despite the huge difficulties Xavier faces, he is an adorable little boy, who is both loving and caring. His huge smile can brighten even the most difficult of days. He truly is a little champion."Xavier absolutely adores his new outdoor play area which was designed by modifying the deck at the back of the family home thanks to the generosity of the Steve Waugh Foundation. He is safe, secure and can play independently, whatever the weather conditions.
"We want to thank the Steve Waugh Foundation from the bottom of our hearts because, despite our fear of the future, we can be certain of 'the now'. The Foundation has brought some sunshine and happiness into a very difficult situation.  They have given us hope, and Xavier some independence - but what we value the most is the huge smile that spreads across Xavier's face every time he plays in his amazing outdoor play area." (Xavier's Family)
---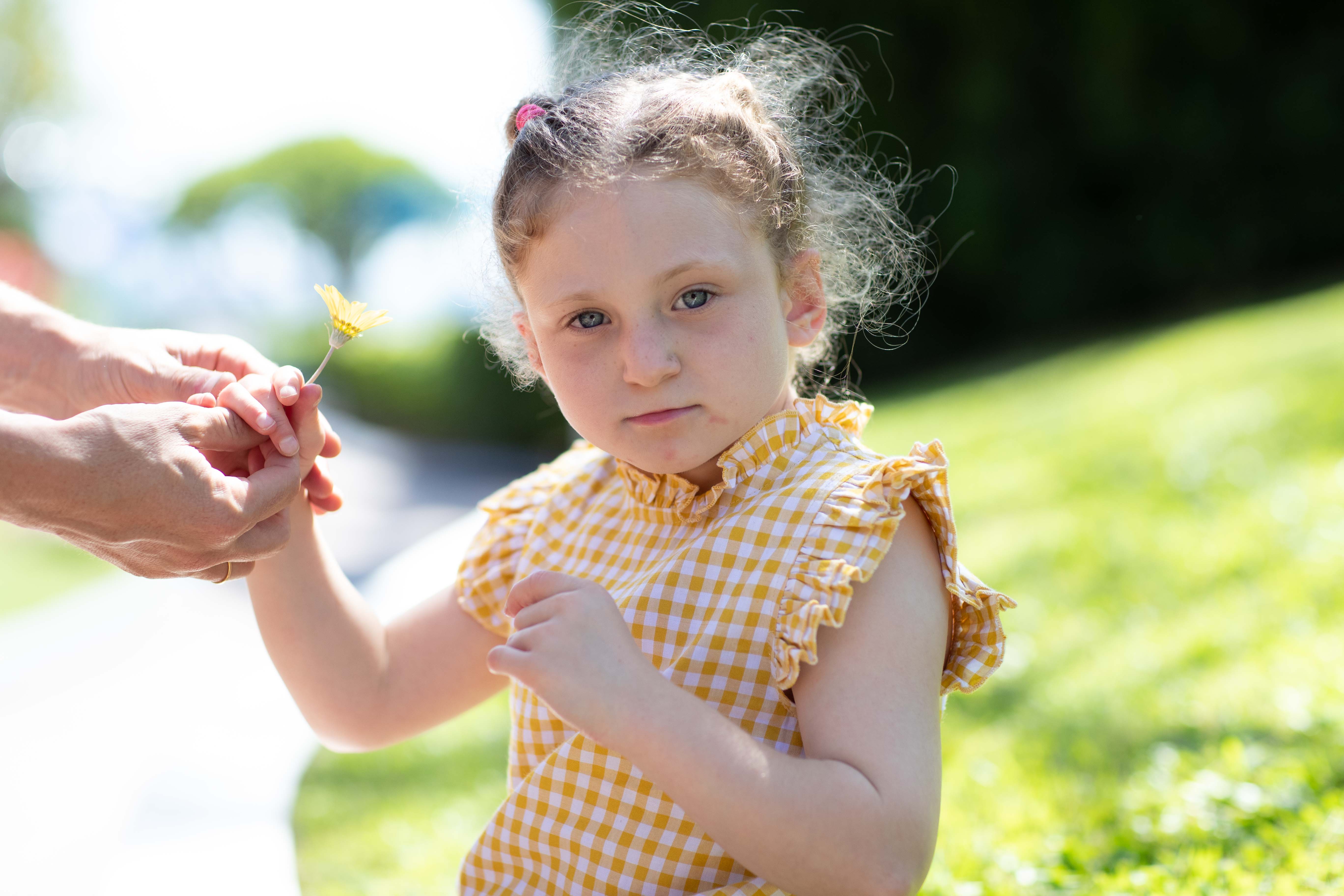 I am Marley!
I have Trisomy chromosome 5q33 and Monosony chromosome 11q24.2
I am now 8 years old but when I was a baby I experienced limited growth, stopped feeding orally and was fed via a nasal gastric tube and had a heart condition which was repaired when I was seven months old. I have had and still need lots of therapy including speech, physiotherapy, occupational therapy and attend lots of medical appointments.
Marley's family tells us 'Marley has hearing impairment and vision problems, is non-verbal with a limited range of sign language and understandably gets easily frustrated at her inability to be understood. When she is understood her relief and delight is so evident, it makes communication one of our key areas to work on. 
We became aware of the Steve Waugh Foundation through another parent who had received a grant from the foundation. At this time, we had been dealing with Marley's sleeping issues for around 2yrs. After seeing a sleep specialist, having her tonsils and adenoids out and giving Marley melatonin (as she doesn't produce this sleeping hormone), we were still having her sleep in between both of us, as it was the only way she could safely sleep. We were being woken up to 10 times a night to help settle her and one of us would have to stay with her from her bedtime, as if she woke she would throw herself off the bed.
Marley was also part of the 2014 campaign for Rare Disease Day. It gave Marley the opportunity that many normally functioning children get regularly. She was able to be herself and stand for something of true value. More recently we were funded for an assistive communication system for Marley. Without the Steve Waugh Foundation neither of these would not have possible. Shantelle and I were also so impressed with the level of engagement and understanding that Steve and Lynette displayed. I was particularly moved by the phrase that Steve has used several times, that a certain child was "one of ours". Having a child whose condition is unique means we have never felt like we belong to any groups. Being part of the Steve Waugh Foundation and the involvement on Rare Disease Day itself, we for the first time felt as though we belonged. Belongingness is something we all strive for in life, a rare disease can often result in isolation. The work done by the Steve Waugh Foundation not only funds life changing grants such as Marley's bed but also so importantly links families.'
---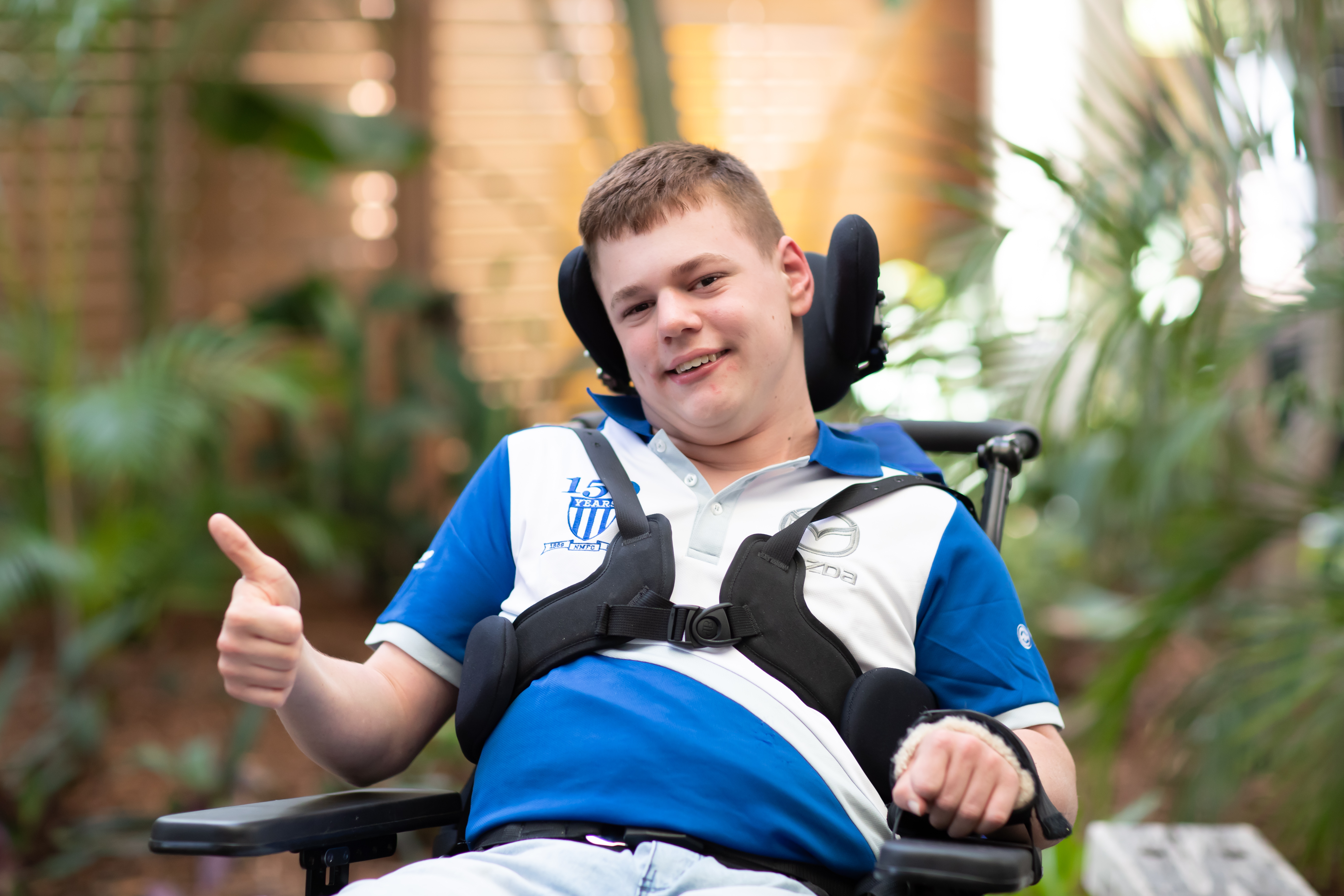 I am Liam!
I have Acute Demyelinating Encephalomyopathy (ADEM) which creates lesions on my brain affecting gross motor skills, speech, tightness in and shortening of my muscles, and involuntary movement I can't control, which worsens with age.
I was helped by the Steve Waugh Foundation in many ways.  In 2007 a Dynavox V communication device gave me a voice, then a LEVO stand up wheelchair C3 with a Bluetooth R-Net control system in 2011 helped me walk for the first time and a new stand up wheelchair in 2016 has given me control of my mobility including greater speed!
"My name is Karen, I'm Liam's mum. After Liam was born he became sick. My life, as I knew it changed forever. Endless rounds of doctors' appointments and tests, physiotherapy, occupational therapy, speech therapy, hydrotherapy, specialists from genetics, immunology, neurology and paediatrics suddenly became a part of our daily life. The hospital and GP were on speed dial! It was overwhelming. It's been amazing to watch Liam find his voice for the first time - he inspires all he comes into contact with. Liam has a wicked, mischievous streak and great sense of humour, now we can't get him to stop talking! He has a great personality, which we are all finally getting the chance to know. We'd truly have waited for more years than I care to imagine because funding bodies don't see communication as a strong need in young children and DO NOT fund stand up wheelchairs for ANY child, as they are not a necessity. Apparently only adults need to stand!! We are just one family and one story. There are millions of other families here in Australia and overseas with their own stories to tell- all of them different; all unique; and all with different needs. Please keep giving children like Liam some recognition and "somewhere to turn"."
"We all need the continued support of medical experts, researchers, governments, charities and everyone, so Liam, and all people and children with a rare disease don't fall through the cracks and become the forgotten aspect of society. We've always tried to live a normal life with Liam, now it's much easier to do!"— says his mother, Karen.
---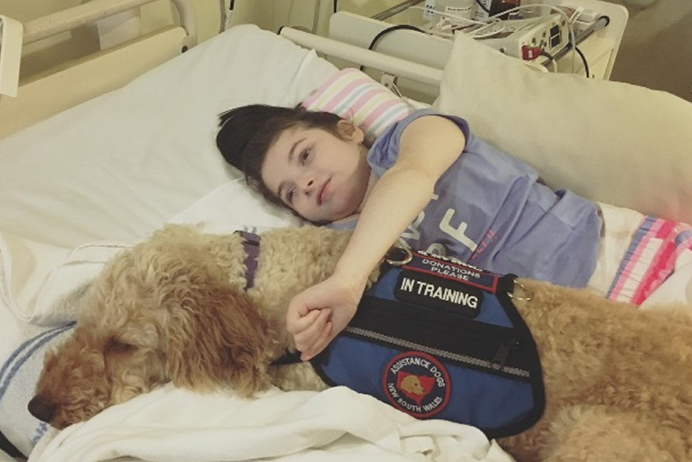 I am Billie!
I have Lissencephaly which literally means "smooth brain." This rare, gene-linked condition causes the absence of normal 'folds' in the brain developing during growth and results in swallowing difficulties, failure to thrive, muscle spasms, seizures, and severe psychomotor issues. Many children with Lissencephaly don't live beyond ten years of age.
I was helped with different supports that I have needed over many years . The Steve Waugh Foundation has provided me with a seating system, a specialised bed, a machine to alert breathing difficulties, an hydrotherapy spa and training of an assistance dog from the age of 8 weeks for 8 months.
 Billee's Mum Kerri says, "Our dog Fudge is now 4 and she is a very loved member of the family! She is very loyal to Billee and is in training at the moment to be a full working dog." Fudge and Billee share a really special relationship. Fudge is a companion for Billee, she lays with her on her bed at home and also when Billee has been in hospital. She sits with her to comfort Billee when she's having seizures and Fudge assists to keep Billee calm in stressful environments.
"Fudge has been great for the whole family and is a comfort to all 3 of our girls especially when Billee is sick or they are feeling down" Kerri reports. The ongoing assistance of the Steve Waugh Foundation and its wonderful supporters has been literally life saving for Billlee.
---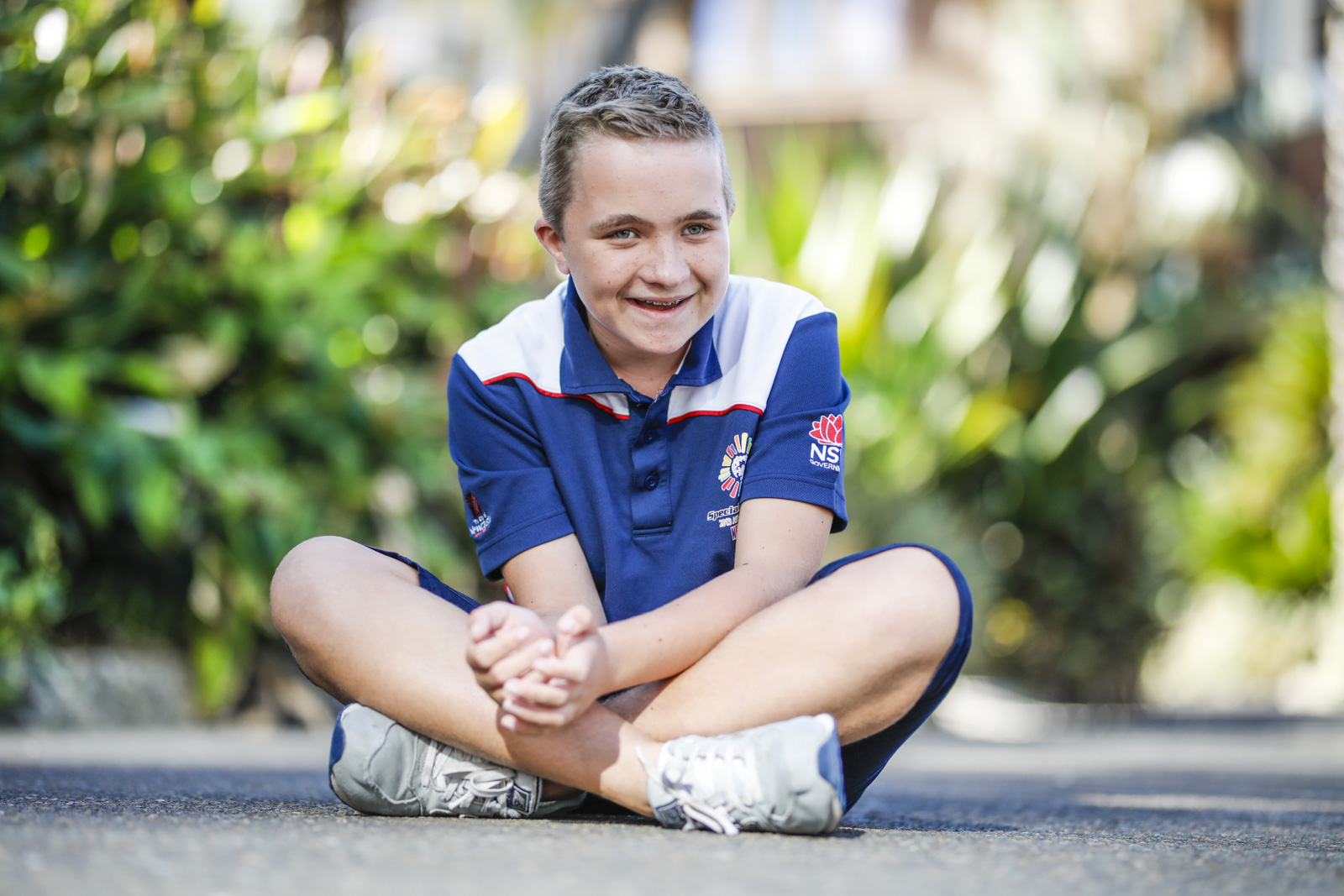 I am Cooper!
I have Patau Syndrome, a rare disease also known as Trisomy 13 (Mosaic) which can create difficulties in many areas but speech improvement was my goal.
I was helped by the Steve Waugh Foundation with funding for intense speech therapy which has helped me make great progress in speech, language and literacy development.
Cooper's therapists said his lovely nature made him an absolute pleasure to work with. He has made prodigious gains in articulation, sentence development and spontaneous speech production.
Without the help of the Steve Waugh Foundation this progress could not have been made and Cooper and his family are ever so thankful for this life enhancing support.
---