Our Supporters
On reflection of the work we have achieved and the people we have met along the way, it is clear that we have made a conscious effort to work with partners who are socially responsible and enthusiastic, engaged but not demanding,  helping us to make a real difference. 
Thank you to our major sponsors and key supporters for helping us make a real difference to the lives of children with Rare Diseases.
---

 Major Supporter of the Steve Waugh Foundation
One of Australia's leading online lenders, loans.com.au is a loyal partner of the Steve Waugh Foundation through the loans.com.au Women, Children & Community Program. This program helps us, and other local charities raise awareness and funds to achieve our mission.
As Major Sponsor of The Captain's Ride, the team at loans.com.au have been proud supporters of the Foundation for 7 years and shown dedication not only through their sponsorship but also through their participation in the Ride since its inauguration. The Steve Waugh Foundation is honoured and proud to be part of the loans.com.au Women, Children & Community Program, which helps us work toward our goal of providing life-changing support for children affected by Rare Disease. 
Although we have had to postpone The Captain's Ride this year, loans.com.au have generously continued to support the Foundation in 2020. This donation embraces the spirit at our core, now more so than ever, 'Strength of Character.' We are extremely proud to have the support of loans.com.au for yet another year. 
"We truly believe in the Steve Waugh Foundation's mission, and the loans.com.au team and myself are honoured to help raise funding and awareness for children and young adults affected by Rare Diseases through our Women, Children & Community Program."
- Marie Mortimer, Managing Director loans.com.au 
"loans.com.au have been loyal partners of the Steve Waugh Foundation for years now, helping us achieve our mission to provide life-changing support for children affected by Rare Disease. The Women, Children & Community Program will certainly help us raise awareness for our cause, and we look forward to seeing the opportunities it provides for us and other deserving charities. We're honoured and proud to be part of such an impactful initiative."
- Steve Waugh
---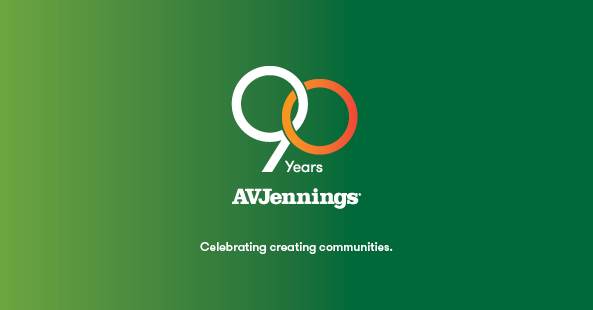 Founding Corporate Partner of the Steve Waugh Foundation
Iconic residential property developer AVJennings is a proud partner of the Steve Waugh Foundation and, as a company whose foundations are in creating communities, recognise the importance of lending a helping hand.
The AVJennings team, suppliers and stakeholders contribute significantly to the Foundation through various fundraising initiatives such as the construction and sale of a home, sporting events, community days and workplace giving.
Their contributions generate revenue for medication, treatment, specialised equipment and financial support for children and families who are affected by Rare Diseases.
In 2022, AVJennings celebrated their 90 year anniversary. We are proud to have been partners since 2012 and are grateful for their continued support. 
"As a company, whose foundations are in the creation of communities, we feel it is important to have a strong sense of community within the company and our people. We are delighted with how many staff, suppliers and friends have raised their hands to help in the creation of the Renee Project."
- AVJennings Team
---

Official Steve Waugh Foundation Partner since 2013
World leading image company Canon has partnered with the Foundation to help us raise the profile of rare disease and share the stories of our 'Rare Stars'.
Since 2014, Canon Australia has been the major sponsor of 'Rare Stars Day', an event exclusive for the children we support and their families, giving them the opportunity to meet, share stories and form connections with each other and the people that support them. 
Canon and their staff participate in and raise additional funds as a team and through individual efforts such as 'Walk to Work Day', supporting Foundation events and promotions, and workplace giving - generating significant revenue to make a difference to the kids and families we help.
"Our partnership with the Steve Waugh Foundation has been incredibly rewarding for all of us in the Canon team. It's been a privilege to help shine a light on the Rare Stars that are the grant recipients and their families and contribute to a better future for them."
- Canon Australia Team
---